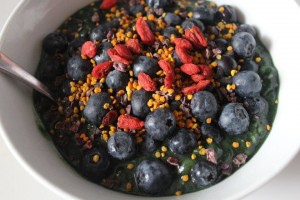 It's important to start your day off with a nutritious breakfast to properly fuel you through your morning.
For the last two years or so I've been having the same breakfast most mornings. This breakfast consists of a bananas mashed up into a pudding like consistency with various other healthy ingredients thrown in to up the nutritional value. When everything is put together you end up with a bowl of green "banana mush" with a taste that I've grown to enjoy.
For this recipe you will need:
3 or 4 ripe bananas depending on your appetite (you know they are ripe when they are spotted)
1 tbsp of nut butter (almond, peanut, tahini etc.)
1 tsp honey
1 tsp coconut oil
1 egg is optional
Using a fork mash all these ingredients into a pudding like consistency.
At this point you can have fun and experiment by adding a number of different ingredients. Changing up what you're adding to the base on occasion will allow for a different taste so you won't become bored with it and also provide a different array of nutrients. Just remember that there are many differently qualities of ingredients out there. For example a free range organic egg is in a totally different ballpark to a regular egg from the supermarket.
Some of these ingredients you can add include:
spirulina powder
chlorella powder
kelp or dulse flakes
vitamin C powder
frozen berries (stir them in and let them sit for 5 minutes to thaw a bit)
chia seeds (before using them add them to a bit of filtered water and let them sit for a few minutes to form a gel)
maca powder
cacao powder
acai powder
Now mix the concoction together to form a green pudding and it's ready to eat. Bananas are great at masking some of the added ingredients that are not so tasty. In the end it ends up tasting pretty sweet.
After eating this breakfast just make sure and wipe off around your mouth before stepping out for the day or you may get some weird looks with a green ring around your mouth.
If you can think of any other healthy ingredients that could be added to "banana mush" post them in the comments section.
To your health!
Jesse