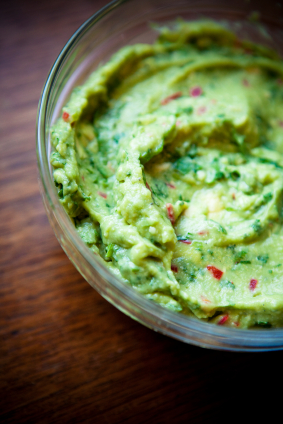 One of my favourite healthy recipes of all time is homemade guacamole.  Guacamole is really easy to make and it's a great snack or it can be a meal all on its own.
Ingredients:
3 avocados
2 small/medium tomatoes
1 green onion
A handful of cilantro (optional)
The juice of a quarter lemon or lime
A pinch of pepper
A pinch of sea salt
Directions:
Start by chopping up the avocado into small pieces and adding them to a medium bowl. Next, dice the tomatoes and add them with the avocado. At this point it is a good idea to use a potato masher or a fork to mash the ingredients into a green mush. Some people prefer their guacamole more chunky or smooth so mash accordingly.
Finely chop the green onion and cilantro and add them to the bowl. Next, add the juice of the quarter lemon or lime to the mix. Finally, add in the pepper and sea salt and mash it a bit more to thoroughly mix all the ingredients together.
This completes the guacamole and it is ready to eat. If you're not going to eat it right away make sure to seal it in an airtight container and place it in the refrigerator so it doesn't brown as much.
To make a healthy dipping "chip" you will need tortillas from a health food store such as Whole Foods that are whole wheat and preservative free. Take the tortillas and cut them in half then cut them again into chip sized pieces. Place the cut tortillas on a baking sheet and lightly brush with olive oil and sprinkle with a bit of sea salt. Bake them in the oven at 350 degrees for about 8 minutes (until they start to brown). These "chips" are now ready to serve.
You can also use cut up raw vegetables such as celery, carrots, bell peppers and cucumbers for dipping in the guacamole.
Guacamole also makes a great appetizer to bring to parties and share with friends. Just make sure you bring enough because a dish like this is going to go fast.
What is your favourite item to dip in guacamole? Share it in the comments section.
To your health!
Jesse