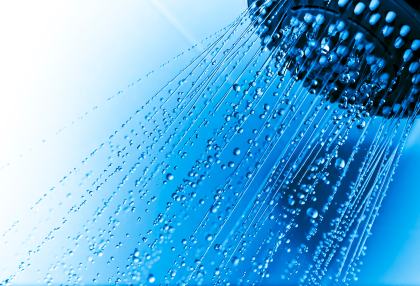 Installing a filter in your shower is a simple way to make a significant improvement in your health.
I've been using a Sprite all-in-one filtered shower head for years. The only maintenance I do is change the filter in it every six months which costs $20 – easy!
The main benefit of filtering your shower water is to remove some of the chlorine used to disinfect the water.
The problem with chlorine in the water is twofold. First, some of it gets absorbed through your skin as you are showering. Second, using hot water while showering will cause chlorine to vaporize into a gas that you will end up inhaling. Showers are usually pretty snug so there is not a lot of room for the gas to dissipate out.
Chlorine is very reactive – within your body it forms a variety of toxic compounds.
Some of the cosmetic issues you can experience from chlorine exposure include dry hair/skin, and eyes that are red and irritated.
Having one shower in unfiltered water produces around the same chlorine exposure as drinking unfiltered water for a full day.
Other possible contaminants in your tap/shower water are:
Fluoride
Arsenic
Copper and lead – in older homes with corroded pipes
Germs that survive chlorination – through stools of people and animals
Nitrates – from pesticide and fertilizer runoff
Rocket fuel
Radiation
Pharmaceutical drugs – including antibiotics, sex hormones, anti-convulsants and mood stabilizers
On a brighter note there is a way to help protect yourself against some of this pollution – a shower filter.
Shower filters are very easy to install. To start, all you need to do is unscrew your current shower head. You may be able to do this with your bare hands but, if not, a wrench will do the trick. Next, you screw the old shower head onto the filter and secure it back in the shower. Some models are an all-in-one which come with a whole new shower head.
If you are interested in investing in a shower filter I recommend checking out the companies Omica or Sprite – I use the latter but if I was to start over again I would go with the Omica. The Omica seems more thorough.
Not all shower filters are created equally – each one will have specifications on what it will remove. So look into what contaminants you have in your water system locally and buy accordingly.
A quality shower filter is a good investment when it comes to your health. Don't stress too much over what model you get. The main thing is to pick one up and start using it.
Do you filter your shower water?
To your health!
Jesse