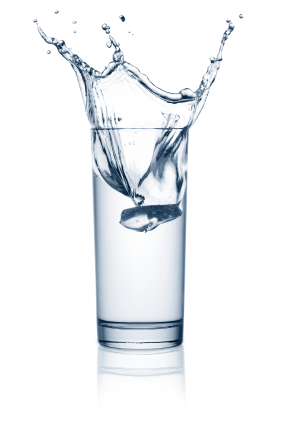 Consuming plenty of clean water is fundamental to reaching your optimum health.
Our bodies are made of up to 60% water. More specifically, the brain is 70% and the lungs are almost 90% water.
Here are 6 reasons to drink more water:
1. Detoxification – Keeping hydrated allows the kidneys to remove toxins from your body – detoxification. The kidneys are more prone to producing kidney stones when a person is chronically dehydrated.
2. Regular Bowel Movements – Being properly hydrated helps prevent constipation by keeping things flowing through your gastrointestinal tract. As the body becomes dehydrated the colon pulls water from the stool to maintain hydration in your body – constipation is the result.
3. Better Skin – Skin looks better when a person is fully hydrated. Dryness and wrinkles are minimized when hydration is maintained.
4. Improved Exercise – Physical performance suffers when the body is dehydrated. Muscle cells that have less than optimal fluid levels don't function properly. Be sure to properly hydrate with water before, during and after exercise.
5. Weight Loss – Drinking more water can help you lose weight by decreasing your appetite. If you are feeling hungry between meals try drinking a tall glass of water and see if that helps curb your appetite.
6. Headache Relief – A common cause of headaches is dehydration. Drinking enough water can often prevent or alleviate headache pain.
The quality of the water you are drinking is very important. If it isn't coming directly from a spring you will want to make sure it is filtered. Distilled and reverse osmosis water are good choices. Adding a pinch of sea salt or a squirt of fresh lemon juice are great additions. Fluoride, chlorine and traces of prescription/over the counter drugs have been found in drinking water – avoid drinking water from the tap.
Always drink your clean water from a stainless steel, glass or Bisphenol-A (BPA) free container. BPA is found in some plastics and is estrogenic – it will mess with your hormone levels.
Stay hydrated, stay healthy!
Share in the comments your favourite type of drinking water (spring, distilled, reverse osmosis etc.).
To your health!
Jesse