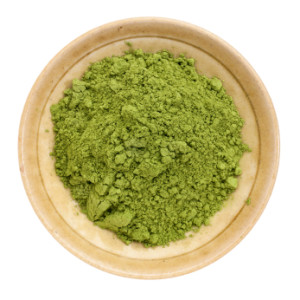 Lately, there has been a lot of buzz in the health world over moringa. With so many superfoods on the market these days, I hadn't researched or tried this plant until recently. A few weeks ago my girlfriend Marni and I came across some moringa powder she had stuffed away – she gave it to me (lucky guy). This led to my research on the health benefits of moringa and now I'm taking it daily.
The moringa tree is native to Africa and southern India and is truly a miracle tree. There are 12 types of moringa – the one that has become popular in today's health community is Moringa oleifera.
This moringa tree is extremely beneficial as all parts of this plant serve in promoting health – this includes the leaves, flowers, seeds, bark and roots. Moringa is a highly sustainable food source because it grows from seed to a full sized tree in as little as 65 days! It is a very hardy tree – at the end of the dry season when other foods are commonly scarce the moringa tree is in full leaf. Moringa trees have been used to prevent malnutrition in developing countries (tropical) particularly among nursing mothers and infants.
Moringa leaves
Moringa is most commonly sold as a green powder that is made solely of the plant's leaves. This tart powder can be mixed with hot water to form a tea. Other ways of consuming moringa leaf powder include adding it to juices, smoothies and baked goods (healthy ones of course). It can also be mixed into soups or used to top off a salad. The nutritional value of the dried leaves keeps for months without refrigeration.
The health benefits of moringa leaves include:
Contain 46 types of antioxidants which promote longevity and anti-aging. Antioxidants protect against free radical damage, helping to prevent against cancer and degenerative diseases.
Have 7 times the vitamin C of oranges.
Used by midwives to increase breast milk production in lactating mothers.
Contain 3 times the potassium of bananas.
High in iron, vitamin E and magnesium.
High in amino acids. Moringa contains all of the essential amino acids, making it a complete protein.
Have 4 times the vitamin A of carrots (critical for proper eye development).
Contain 4 times the calcium of milk.
Moringa leaf consumption has also been linked to weight loss, boosting the immune system, lowering blood pressure and improving digestion.
Moringa seeds
The moringa seeds serve a special purpose as they have the ability to purify water. This is especially useful in developing countries where clean water is hard to come by. The ground up seeds contain a positively charged protein which attracts negatively charged particles such as bacteria, clay and other toxic materials. When these charges bind, masses are formed. These unwanted masses can then be removed by filtration or by allowing the water to settle.
Pressing the seeds produces "Ben oil" which compares with olive oil in nutritional and antioxidant value. Ben oil is clear, odourless and it has a sweet taste. It has an indefinite shelf life and doesn't go rancid like many other oils on the market.
Quality
As with any superfood, quality is number one. Look for organic and minimally processed (raw) moringa. The vast majority of moringa is grown in India which often has poor quality control. Look for moringa that is a vibrant green colour, avoiding powders that are brown or have been processed with high heat.
If you are looking for a new superfood to add some diversity to your healthy lifestyle, I would suggest giving moringa leaf a try. It packs a nutritional punch that is tough to match.
To your health!
Jesse