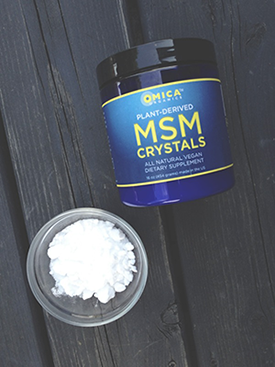 There are so many supplements on the shelf these days… I know it can be overwhelming.
Which supplements are necessary? What brands are legit? How much do I take?
You may be confused. I've been there too.
To be honest, I'm not big on supplementing.
I believe in a diet that consists of an array of organic, whole foods. This will provide the body with nearly all of its nutritional needs. But we need to throw in a few critical supplements to THRIVE!
That being said, MSM is one of the supplements that we can all benefit from.
MSM or Methyl-sulfonyl-methane is an organic sulfur compound that is in every cell in the human body.
Health benefits of MSM
MSM is known as "the beauty mineral" for good reason. It helps your body produce collagen and keratin which are critical components of healthy hair, skin and nails. Regular supplementation of MSM will lead to a clearer complexion and stronger hair and nails.
MSM is important for detoxification. Sulfur is required to produce glutathione which is one of the body's primary antioxidants. Glutathione is the most important part of our detoxification system. It binds to toxins such as heavy metals and directs them out of your body through your stool. MSM also aids in detoxification by increasing the permeability of your cells allowing them to flush out toxins and bring in nutrients more easily.
Degenerative diseases (eg. osteoarthritis and rheumatoid arthritis) can be caused by calcium deposits in the body – MSM helps to break up this bad calcium.
MSM supplementation helps repair damaged cartilage in joints of the body. It can also decrease pain and swelling, reduce stiffness and improve circulation. MSM promotes healthy connective tissues including muscles, tendons and ligaments. These are some of the reasons I often recommend MSM supplementation to my patients.
MSM has a normalizing effect on blood sugar by helping the body produce insulin.
MSM helps reduce allergies, inflammation and scar tissue.
…Now you can see why I'm so excited about MSM and I hope you are too!
Can I get enough MSM from the foods I eat?
MSM is found in fruits, vegetables, meats and dairy products but we typically don't get enough through our diet. This includes us health nuts.
When we cook at high temperatures the MSM in the food escapes in the steam.
Solution: Try to include some raw or minimally processed foods into your diet – you don't need to become a raw foodist.
Most of the dairy available today has been pasteurized which reduces the MSM content by 50%.
The soils are commonly depleted of MSM. This means the fruits and vegetables grown in these soils contain a minimal amount of MSM.
Plants covert the minerals in the soil into a form our bodies can use. So, fruits and vegetables are only as nutrient dense as the soil they are grown in.
Supplementation
Ongoing supplementation of MSM is beneficial for everyone… even the healthiest of people. If you are trying to achieve one of the health benefits stated above, consistent supplementation is a must.
As we age, MSM concentrations in ours bodies naturally decrease. People over 50 should strongly consider supplementing.
MSM is easily absorbed and used by our bodies. It is a very safe compound and the body is able to flush out whatever it doesn't use. If you are allergic to sulfur or are prone to kidney stones you will want to avoid MSM supplementation. For the average person the recommended dosage is 1500 to 6000 mg a day – this will vary depending body size. I recommend starting with 500 mg and working up over time.
Ok, so there is ONE negative thing about MSM… It tastes terrible! Remember the slogan of Buckley's cough syrup? "It tastes awful. And it works." The same goes for MSM… it is very bitter.
I find the best way to get MSM into my body is by adding the powder to a small cup of water (filtered of course), stirring it in and then chugging the whole thing back. You may want to have a handful of goji berries or a banana close by to use as a chaser.
If you are brave you can add some MSM to your smoothie or juice but I wouldn't recommend it – MSM will likely throw off the taste.
Don't let the bitterness sway you from giving MSM a try – the flavour is definitely tolerable and the pros hugely outweigh this con. I like using the powder but MSM comes in capsules as well.
I always talk about the importance of quality when it comes to anything that is going in or on your body. If you are going to take the time and money to supplement, only buy the best products available – MSM is no exception.
You want to avoid MSM that is derived from a petroleum source. The best MSM supplement is produced by a company called Omica Organics and it's made from a natural plant source. This is the product I use and recommend.
Detoxification
When you start taking MSM your body will begin to detoxify. This may cause some negative symptoms to come up that will fade over the first couple of weeks. Possible symptoms include a rash, tiredness, headaches and diarrhea. Don't think of these as a bad thing, the greater the symptoms the more toxins you are releasing from your body. If your symptoms become too intense, simply lower the dosage.
Have you ever supplemented with MSM? If so, share your experiences below with the other readers. I would love to hear from you too!
To your health!
Jesse