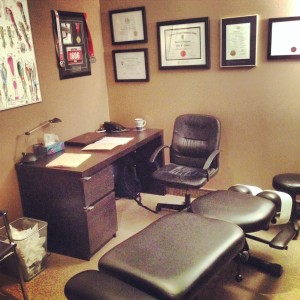 Have you ever been treated by a chiropractor? It's important to note that your experience may vary greatly from one chiropractor to the next. There are a number of practice styles and techniques out there. It is important to find the right chiropractor for YOU.
There are 2 reasons for the diversity within the chiropractic profession:
1) There are a number of chiropractic colleges throughout the USA and Canada. Different schools emphasize different material within the curriculum.
2) There are a number of techniques and courses offered to chiropractors outside of their core education. New skills are learned and brought into practice.
What do I do as a chiropractor?
I treat stiff/irritated joints and tight muscles of the body. This doesn't always mean waiting until there is pain to treat. Tissues often become tight and stiff long before pain occurs. Regular chiropractic maintenance is a great idea to prevent injuries and keep you feeling great! Another thing to keep in mind is that the cause of your pain is not always local – it may be originating from another area of the body.
My treatments include chiropractic adjustments and mobilizations (slow rhythmic movements), Active Release Techniques (soft tissue therapy), acupuncture and gua sha depending on the injured tissue. I spend a great deal of time working one on one with each of my patients. Regular treatments take around 20 minutes and the majority of this time is spent releasing tight muscles.
Chiropractic adjustments and mobilizations
The purpose of these therapies is to get stiff/irritated joints moving properly again. The bones are not being moved into a new alignment but they are getting their normal motion restored. These treatments also cause a relaxing effect on the surrounding muscles. Mobilizations are an excellent alternative to adjustments in cases where the patient is uncomfortable with being "cracked."
Active Release Techniques (ART)
This procedure is used on tight/tender/shortened muscles anywhere in the body. ART can release trigger points and break up scar tissue/adhesions. The technique is simple – the involved muscle is shortened, tension (pressure) is applied by hand to the involved tissue, then it is lengthened. This all sounds very simple but the touch takes years to perfect and the treatment is extremely effective. To fully restore a muscle it can take a few treatments but patients usually feel a great deal of relief after the first session. I find most of my patients require extensive muscle releasing as part of their treatments. This is nearly always the case with patients that have repetitive type jobs (eg. line work) or sedentary jobs (eg. office workers) – both of these jobs cause a great deal of stress to the body.
Acupuncture
Tiny needles are inserted into the involved muscles – usually painlessly. This technique relaxes tight muscles, releases natural painkillers in the body, decreases bruising/swelling and increases blood flow to the area. I usually use electrical stimulation (non-painful) to get a better response and the needles are left in for 5-10 minutes.
Gua sha
This traditional Chinese treatment is effective at loosening tight muscles/tendons/ligaments and it is great at breaking up scar tissue. The Gua sha technique involves gliding a small jade tool across the skin releasing the tight underlying tissues. A creme is applied to the skin to decrease any friction. Gua sha is great for treating the larger, more superficial muscles of the body.
By utilizing the above techniques I consistently get outstanding clinical results with my patients.
I have excellent success treating:
Low back pain – this includes scoliosis (pain down the leg or legs)
Neck pain
Headaches – I can't tell you the number of patients that have had their headaches totally alleviated within a few treatments when the cause is tight upper neck muscles.
Any other joint or muscle issue in the body.
Chiropractors often practice very differently from one another. It's important for each of us to put our flag in the ground and be clear about our treatment techniques and style – this allows patients to make an informed decision about their care. As a new patient, make sure and do your research before choosing a chiropractor that is right for you.
To your health!
Jesse