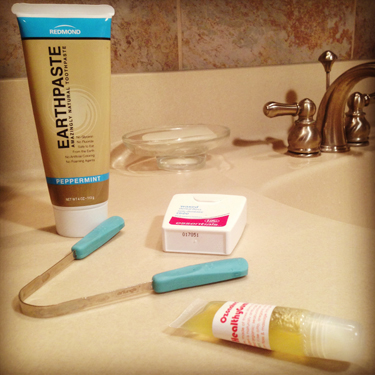 It's important for each of us to come up with our own natural strategies for keeping our teeth and gums healthy.
Over the years I've experimented with many natural oral care products and in today's post I want to share the best of the best with you.
My goal is to expose you to some new products that you may want to substitute into your own natural dental routine.
Here are a number of excellent products to keep your smile bright and healthy:
Dr. Tung's Tongue Cleaner – This "U" shaped instrument is made of stainless steel with two rubber handles to grip onto.
Using this tongue cleaner is simple. All you do is drag the device from the back of your mouth forward a few times going over the entire surface of your tongue – it takes about 15 seconds total.
When using this cleaner you will notice a layer of white film is removed from the surface of your tongue – gross… I know! This is a great practice to do first thing in the morning before brushing your teeth. It will improve your breath, how you taste foods, and it will also remove bacteria from your mouth.
The other option for cleaning your tongue is the Orabrush which works on a similar premise. After experimenting with both I prefer the Dr. Tung's Cleaner.
Natural Toothpaste – There are a couple of natural toothpastes that stand head and shoulders above the rest.
My favourite is Earthpaste by Redmond – I recently started using this gem. This toothpaste contains very few ingredients and it's safe to swallow – who would put a product in their mouth that is toxic to the body if swallowed? It contains no fluoride, sodium lauryl sulfate (SLS) or glycerine.
Another great toothpaste is the Oralive Dental Regenerative Elixir by Ascended Health. This product isn't cheap but a little goes a long way.
If you are still using "regular" toothpaste such as Crest you may want to start by switching to a good toothpaste that is a bit easier to find – try Green Beaver.
Dental floss – I just use regular, unflavoured floss – waxed or unwaxed. Flossing is great following meals and is important to do at the end of the day before you go to sleep.
Healthy Gum Drops – This is a wonderful product by Living Libations. I don't use it all the time but I like to occasionally throw it into the mix.
If you suffer from receding gums these drops can help bring them back down again and it can also remove unwanted oral bacteria.
You apply this product by putting a drop on the end of your finger and then gently smear it across your gum line. Other ways to use it include applying it to your toothbrush, tongue cleaner or dental floss.
Give these natural dental products a try and see the positive difference they'll make to your oral health!
What are your favourite natural dental products?
To your health!
Jesse