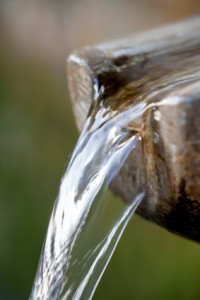 Your body is made of roughly 60 percent water. So… it's important to have a system in place to make sure you're drinking the best water possible.
Trying to figure out the best type of drinking water for you and your family can be quite a challenge. This is because there is so much conflicting information on the subject.
I'm going to simplify things and explain the 3 best choices when it comes to drinking water.
Lets have a look…
Good – Distilled Water In Plastic Bottles
This is the type of water you will see at your local supermarket in the big, light blue bottles. This distilled water is good for beginners but it's not an ideal long term strategy.
Pros
This water has nearly all of the contaminants removed from it during distillation.
It's found everywhere – grocery stores, drug stores etc.
Cons
All the natural minerals are removed from the water.
These bottles require a dispenser – I would go with a simple ceramic one.
A deposit is required for each bottle.
Each bottle is heavy and cumbersome to transport when full.
These bottles contain bisphenol A (BPA) which is a xenoestrogen that can leach into the water. Xenoestrogens disrupt your endocrine system which is responsible for producing the hormones in your body and are linked to breast cancer in women and decreased testosterone in men.
Better – Reverse Osmosis Water
Having a reverse osmosis filtering system in your kitchen will produce a quality drinking water that's convenient.
Pros
Having a relatively infinite amount of clean water centrally located within your house.
The water doesn't sit in plastic which can contaminate it with BPA.
Cons
This system is wasteful – per gallon of water made, 4 gallons are discharged as waste water.
Most of the natural minerals in the water will be removed by the filter.
Pesticides, herbicides and chlorine will pass through the reverse osmosis system and need to be further filtered by a carbon filter.
Best – Living Spring Water
The best type of drinking water is living spring water collected in nature. This is the stuff that naturally comes right from the ground.
There is a wonderful website called FindaSpring.com which shows you the locations of many natural springs across the globe. It's a huge database with pictures, information such as total dissolved solids (TDS) and comments from visitors. I'm sad to say there are no marked springs for me in Windsor, Ontario… yet.
Pros
The purest and most natural water on the planet.
Natural minerals still remain in the water.
It often connects you with nature while harvesting the water.
Cons
You need to travel and collect the water yourself – this is time consuming. Turn this con into a pro by making an adventure out of gathering water with family or friends!
You may need a couple of tools to measure the TDS and pH of the water. Glass bottles (ideally) or some other containers are also needed to collect the water.
These bottles are heavy to lug around when full. This is especially true when using glass bottles and you need to be careful not to break them.
I always say…
Do the best you can in any given situation with respect to your healthy practices – this includes drinking the best water possible!
Have you collected living spring water in nature?
To your health!