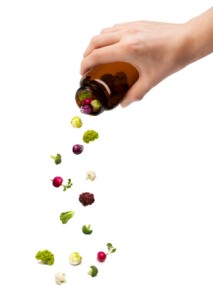 I don't think people should rely heavily on supplementation. A healthy, whole food diet should provide the bulk of the body's nutritional requirements. That being said, there are 2 supplements that you should consider taking – vitamin B12 and vitamin D.
Vitamin B12 – This nutrient is crucial for the creation of red blood cells and is important for nerve health. It is naturally found in animal products such as meat and eggs and is generally not found in plant foods unless they are fortified.
Vitamin B12 is commonly deficient in vegetarian and vegans but is also often low in people who are eating meat too. This vitamin is only absorbed in the small intestine so due to common intestinal issues both meat eaters and vegetarians have trouble absorbing it. Up to 40% of the population may be low in vitamin B12. Some of the symptoms of B12 deficiency include: a tingling sensation in the fingers and toes, shortness of breath, chronic fatigue, depression, confusion and forgetfulness.
There are 4 ways of taking a vitamin B12 supplement – Absorption it through the skin (patch), sublingual (under the tongue), oral (swallowing) and through injections.
There are 2 forms of vitamin B12 Methylcobalamin and Cyanocobalamin. The latter is a cheap, laboratory made, synthetic chemical. In this form the vitamin is bound to a poisonous cyanide molecule that your liver will have to remove from your body. Always make sure you are taking the proper form of vitamin B12 – Methylcobalamin!
Vitamin D – Vitamin D is a vital nutrient for the immune system. It helps regulate inflammation in the body and has a role in calcium absorption. Vitamin D can be obtained through the diet by eating fish, eggs, fortified milk and cod liver oil – things I would personally rather not eat. It is also obtained through UVB rays from sunlight.
Around 60% of Americans are vitamin D deficient so supplementation is an important consideration. Symptoms of vitamin D deficiency include muscle weakness and bone pain. Low levels of vitamin D have been associated with cancer, severe asthma in children and an increased chance of dying from cardiovascular disease.
Two forms of vitamin D are: vitamin D2 (synthesized by plants) and vitamin D3 (synthesized by animals). Vitamin D supplements come in both forms.
It is important to only take high quality supplements that are made by reputable companies. I only take B12 and vitamin D3 made by the company Garden of Life (Vitamin Code is the specific line). They are raw and of high quality. There are many cheaper supplement companies out there but you get what you pay for. If you are interested in reading more about the supplement industry check out the book "Supplements Exposed" by Brain Clement. I have the book in queue to read in the future but from what I gather there are some pretty sketchy companies to be aware of.
I always recommend having your vitamin and mineral levels checked by a lab regularly – either every 6 months or yearly. This way you get a real time picture of your nutrient levels so you can adjust dosages of supplements accordingly. It also provides a baseline to compare future testing with.
So get your vitamin D and B12 levels checked and if need be purchase some quality supplements to take as part of your healthy routine.
Let me know in the comments section what supplements you are currently taking.
To your health!
Jesse