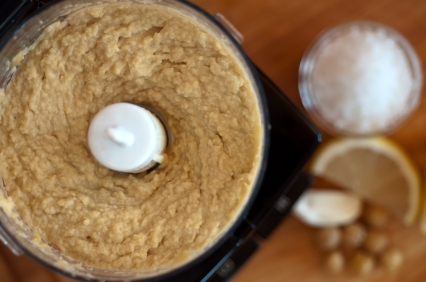 Everyone needs a good hummus recipe. It's a dish that is healthy and easy to make. Hummus is great to keep in the refrigerator for when you need a quick snack (this recipe will keep in the fridge for at least 3 days). It's also a tasty appetizer to bring to parties or can even be a small meal on its own with some "chips" (for a healthy dipping "chip" recipe check out my post – Easy Guacamole Recipe) and/or fresh cut veggies.
Ingredients:
a clove of garlic (peeled)
4 cups of chickpeas that can be raw or cooked depending on how you want to prepare the dish. If you want to keep the recipe raw than you will need to soak and sprout the chickpeas ahead of time.
6 tbsp of extra virgin olive oil
4 tbsp of tahini
1 teaspoon of ground cumin
4 tbsp of fresh lemon juice
1/2 teaspoon of sea salt
filtered water as needed
Makes 3 cups of hummus.
Directions:
Start but putting a garlic clove through your garlic press. You can add more or less garlic as desired but I personally prefer less especially when working with raw garlic which is even more potent than cooked.
For the next part of the recipe you can either use a high powered blender such as a Vitamix (with the tamper) or a food processor. You put the garlic, chickpeas, olive oil, tahini, cumin, lemon juice and sea salt in the food processor and mix everything together until smooth.
Hummus will get thicker as it sits in the fridge so for this step you want to add water until it is slightly thinner than desired. Slowly add filtered water to the mixture and process until everything is thoroughly mixed.
Put the hummus in a serving bowl and let sit in the fridge to let the flavours mix and the recipe will taste better served cold.
Above is the basic recipe. Some other ingredients you can try mixing with this base include: chili powder or cayenne powder to make it spicy, blend in roasted red peppers, paprika, chopped up black or green olives, jalapeno peppers, black beans or sun dried tomatoes.
What's your favourite ingredient to add to hummus? Add your ideas to the comments section.
To your health!
Jesse