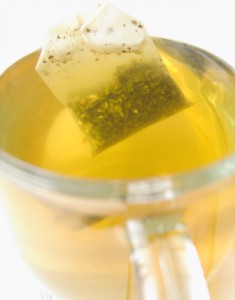 Green tea has been known to provide health benefits through regular consumption. Most commonly people will discuss its weight loss benefit and antioxidant properties. There are other health promoting qualities of green tea discussed below.
Green tea has a mild earthy taste and can range in colour from brown to green once it is steeped. It contains a minimum amount of caffeine so it can give you a healthy boost of energy in the morning or during a midday lull. Green tea is one of my favourite beverages and I enjoy drinking it on a daily basis.
The following are some of the health benefits of consuming green tea:
1. Anti-Cancer – Green tea contains a powerful antioxidant called epigallocatechin gallate (EGCG) which has been shown to kill / inhibit the growth of cancer cells while leaving healthy tissues unharmed.
2. Promotes Brain Health – EGCG is able to cross the blood brain barrier and can help lower levels of inflammation in the brain.
3. Helps With Weight Loss – Consuming green tea increases your metabolism which allows your body to burn fat more efficiently.
4. Improves Oral Health – Green tea kills bacteria in your mouth which can decrease dental plaque and helps eliminate bad breath.
5. Lowers Bad Cholesterol – Regular consumption of green tea can help lower bad cholesterol levels (LDL cholesterol).
6. Helps Prevent Blood Clots – EGCG can inhibit the formation of abnormal blood clots which are the leading cause of heart attacks and strokes.
7. Increases Immunity – EGCG increases the number of immune cells (T-cells) which can help suppress autoimmune diseases.
8. Slows The Aging Process – the antioxidants of green tea help protect us against free radicals that come about by day to day activities such as exercise, breathing and eating. Neutralizing these free radicals with the antioxidants in green tea slows the aging process.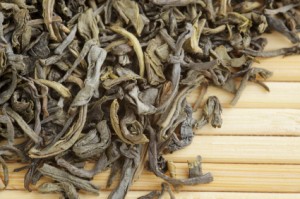 The leaves of the Camellia sinensis plant are used to produce green, oolong and black teas. The difference in these teas come from the ways in which the leaves are prepared. Green tea leaves are steamed compared to oolong and black teas where the leaves are fermented. The fermentation process converts the EGCG into other compounds whereas this antioxidant remains intact during the steaming process.
Caffeine Content of Green Tea:
For a morning pick me up green tea is a great alternative to coffee. The average cup of coffee contains between 100 and 150mg of caffeine compared to green tea which contains around 25mg. Factors that influence the caffeine content of green tea are brewing time (the longer it's steeped, the more caffeine) and the type of green tea. There are two other stimulants in green tea which are also found in chocolate. These stimulants are named theobromine and theophylline. Overall, you can see the caffeine content is greatly reduced when making the switch from coffee to green tea.
Decaffeinated Green Tea:
There are two ways in which caffeine is removed from green tea. The healthy way involves using carbon dioxide and water. The other process involves treating the green tea with a chemical solvent (ethyl acetate). You need to be on the lookout for green tea labelled "naturally decaffeinated" which is produced using ethyl acetate and should be avoided. This terminology is misleading.
As you can see there are many health benefits to incorporating green tea into your daily routine. So steep yourself a mug and cheers to healthy living.
Share your experiences with green tea in the comments section.
To your health!
Jesse