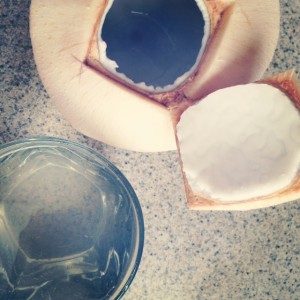 Searching for a healthy alternative to Gatorade? Look no further. Coconut water is nature's sports drink. It's the perfect beverage for hydrating before, during and after your workouts.
Let's start out by having a look at what is in a typical bottle of Gatorade…
Ingredients In Gatorade Orange (from the Pepsico website):
Water – No mention of any filtering which likely means tap water. Unfiltered tap water often contains the chemicals chlorine and fluoride which are both toxic to the body.
Sugar – Is harmful to your health in a big way. Consuming sugar leads to inflammation in the body, feeds cancer cells and suppresses your immune system.
Dextrose – A simple sugar – just what this drink needs… more sugar.
Citric Acid – An artificially created chemical that has a tangy taste. It has been found to cause tooth erosion in kids. It has also been shown to irritate the digestive system.
Natural Flavor – A blanket term that hides the exact ingredients used in a product. The purpose of these ingredients is to add flavour rather than boosting the nutritional content. This term includes meat and dairy so vegetarians and vegans should be aware.
Salt – Heavily processed table salt (sodium chloride). Anti-clumping agents are added to table salt which contain high amounts of aluminum. Sugars are added as stabilizers and to mask the bitter taste of the aluminum.
Sodium Citrate – A preservative and flavour enhancer that adds a sour/salty taste.
Monopotassium Phosphate – A soluble salt.
Gum Arabic – A stabilizer made from tree sap.
Sucrose Acetate Isobutyrate – Adds density to the drink (makes it thicker) and stabilizes the flavour.
Glycerol Ester of Rosin – This oil soluble food additive keeps oil mixed evenly in water (beverage stabilizer) and is a thickening agent.
Yellow 6 – Made from petroleum, this food dye may contain cancer causing chemicals and has been show to cause adrenal tumors in animals.
As you can see, Gatorade is loaded with unnatural ingredients that promote disease in your body – I recommend staying clear. But don't worry, coconut water is a healthy alternative. This nutrient dense drink is extremely hydrating (contains 95% water).
Where Can I Get Coconut Water?
The best coconut water comes directly from a young green coconut. In warmer climates these coconuts can often be found with the outer green covering still intact, right off the tree. Young coconuts can also be found at Asian grocery stores, Whole Foods Market, and once in a while I see them at a regular supermarket. Store bought coconuts have the outer green layer removed leaving behind a white fibrous husk. They have a flat bottom, pointed top and are covered in Saran Wrap. Opening young coconuts is a skill – do your research on the proper technique and be careful!
There are some companies making quality packaged coconut waters that are great to have on hand. The only drawback of buying coconut water extracted is that most companies pasteurize it – the heat destroys the enzymes in the coconut water, leaving it lifeless. Also, look for a brand that is not from concentrate and that doesn't have any additional ingredients.
Health Benefits of Coconut Water:
Rigorous exercise causes you to lose electrolytes in your sweat (eg. sodium, chloride and potassium). Coconut water helps replenish these electrolytes and keeps you hydrated.
Helps alkalize your body – typical Western diets are highly acidic which leaves your body more susceptible to disease.
Compared to a typical sports drink, coconut water has been shown to be equally effective at rehydrating after a hard workout.
Provides the body with magnesium, zinc, iodine, selenium, manganese, sulfur, B vitamins, vitamin C and calcium.
Loaded with antioxidants, enzymes and amino acids.
Improves skin health by decreasing wrinkles and age spots.
Contains a large amount of plant hormones called cytokinins which are anti-cancer and have an anti-aging effect on your body.
Falls extremely low on the glycemic index with a score of 3 (10 or less is considered low).
The Ultimate Workout Drink
If you are looking for an epic drink to consume before and during your workouts, I have a recipe for you. This is a concoction my girlfriend introduced me to and it has taken my workouts to a whole new level. Thank you!
Here are the ingredients…
1 1/2 cups of coconut water
1 scoop of Vega Energizer – I prefer the acai berry flavour over lemon lime.
1 tsp of a green powder of your choice – My favourite for this mix is Sunwarrior Ormus Supergreens.
Stir the above ingredients together and enjoy this delicious, energizing drink. The combination of kombucha, yerba mate and green tea found in Vega Energizer gives you a nice boost of clean energy for your workout. This drink also makes for a healthy alternative to coffee in the mornings to get you off on the right foot.
Have you ditched the traditional sports drinks yet? What have you subbed in?
To your health!
Jesse