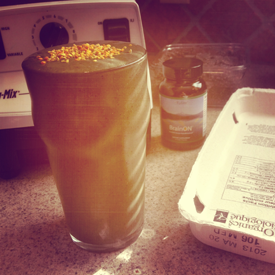 Smoothies are a staple in my healthy routine. They are quick, nutritious and portable, making them the perfect meal, anytime!
Here are 5 ways to upgrade your next smoothie:
1. Coconut Water – This alkalizing liquid comes from the inside of a young, green coconut. It is an excellent substitute for water as the base of your smoothie. Coconut water is anti-inflammatory, it's hydrating, it increases exercise performance and it has anti-cancer properties – these are just a handful of its many health benefits. Drinking coconut water is an excellent habit following a workout because it is naturally rich in electrolytes – think of coconut water as nature's Gatorade.
2. Zeolite – We often concern ourselves with what foods we are putting into our bodies – I agree, this is critically important. But, what is often neglected is helping rid the body of accumulated toxins – this is exactly what zeolite does. Examples of these toxins include heavy metals, environmental chemicals and radiation. Zeolite is a clay that has a negative charge. It binds to toxins and safely removes them from your body. HealthForce Nutritionals makes my favourite zeolite product, in a powdered form – just add a teaspoon to your favourite smoothie and you are good to go.
3. A Tea Base – Brew up a large pot of yerba mate or green tea and chill it overnight. Instead of using water, use the pre-made tea for the base of your smoothie. This will not only change up the flavour of your drink (hopefully for the better) but it will also provide your body with additional nutrients. Both these teas are healthy stimulants so you will also get an additional boost of energy from your smoothie.
4. Dark Leafy Greens – By adding a handful of your favourite greens to your smoothie you will get a boost of vitamins (eg. K, E and C), minerals (eg. calcium, magnesium and iron), chlorophyll and phytonutrients (eg. beta-carotene and lutein). Calorie for calorie, dark leafy greens are the most concentrated sources of nutrition on the planet. You will even find small amounts of Omega-3 fatty acids in these greens. A couple of my favourites include baby kale and baby spinach – both of these come pre-washed in boxes that are ready to go.
5. Superfoods – These are nutrient dense foods that provide extraordinary health benefits. Some examples you may want to try including are sea vegetables (dulse and kelp), bee pollen, chia seeds, acai, maca, spirulina, chlorella, honey, aloe vera and cacao. When purchasing these superfoods, look for the least processed (raw) and organic – quality is key. You will notice that many of these superfoods have a unique flavour so you will need to experiment to see which ones work well together in your smoothies. For me, mixing greens with cacao is tough to perfect, whereas cacao in the right ratio with maca works really well.
The next time you are making your favourite smoothie, try one of these upgrades and take your drink to the next level. Let me know how it turns out in the comments section below.
To your health!
Jesse