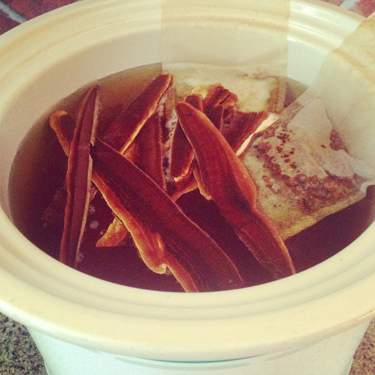 Making teas using whole herbs can provide YOUR body with an array of health benefits!
A couple of popular ways to extract the medicines from whole herbs are using alcohol and hot water. The focus of this post will be on hot water extractions.
1. An alcohol extraction is called a tincture. These extracts are great for long term storage and convenience. This method works best for herbs that are not as soluble in water.
2. Hot water extractions can be broken down into two subgroups – infusions and decoctions.
Infusions are what you get when making a regular tea using leaves and other delicate herbs. You bring the water to a boil and then pour it over the involved herb(s) allowing the mixture to steep until it reaches the desired strength (typically between 5-15 minutes). I use this method to make a lot of my favourite teas – green tea, tulsi and Spring Dragon Longevity Tea.
Decoctions are for more fibrous herbs such as tree mushrooms, barks and roots. They are prepared by adding the herbs to a stainless steel or ceramic pot filled with water. This solution is brought to a boil on the stove. You then lower the heat and simmer the tea until it is the desired strength (up to 8 hours).
Another way of doing this is to use a crock pot – my preferred method. With a crock pot you follow the same procedure by bringing the solution to a boil on high then lower it to low for simmering. The crock pot is a safer method and it doesn't need to be watched as closely.
Herbs are sold in various forms – whole, powdered, sliced, chunks etc. Depending on the size of the herbs you are using you can throw them directly in the pot or put them in an empty teabag – these are sold at most health food stores and are necessary for the powdered herbs.
Starting Out Simple
When working with herbs don't become overwhelmed by terms such as decoction and details such as steeping time – all you are really doing is making a healthy tea.
When you begin working with herbs I recommend sticking with tonic herbs which promote general health and well being. These can be consumed daily and are never toxic to your body.
You also don't need to learn all the different herbs and what they do. Start with a few and go from there – the ones I name below are a few of the best and would be a great place to begin.
Healthy Herbal Tea (see picture above)
Chaga mushroom – 2 tbsp
Reishi mushroom – 2 tbsp
Astragalus Root – 2 tbsp
2 liters of filtered water
Add all these ingredients into your crock pot and bring them to a boil on high. Once a rolling boil is reached put the crock on low and let simmer for 6-8 hours and the tea is ready to serve.
This tea is ready to drink as is or it can be chilled and used as the base for a smoothie to ramp up its health benefits.
Experiment with different combinations of herbs in your teas – have fun with it!
Share your favourite herbal tea in the comments below.
To your health!
Jesse