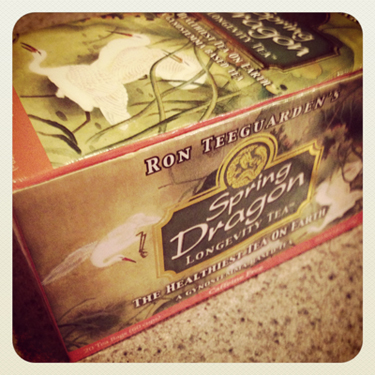 I'm a big fan of tea in general!
Throughout the day you'll rarely see me without a hot brew in hand.
Some of my favourite teas include green, tulsi/holy basil and chaga but if I had to narrow it down to only one it would be – Spring Dragon Longevity Tea.
This tea was created by Ron Teeguarden of Dragon Herbs and is referred to as "The Healthiest Tea On Earth" – after researching the health benefits of the herbs in this tea, I definitely agree!
Spring Dragon Tea is made by taking 5 longevity herbs (discussed below) and concentrating them into a thick syrup which is infused into premium grade gynostemma leaves.
The herbs in this tea are referred to as "tonic herbs" meaning they can be consumed daily and are considered highly nutritious foods.
This tea is caffeine and gluten free. It has a mild, sweet taste to it.
Spring Dragon Tea contains the following herbs:
Gynostemma – This leaf is an adaptogen. Adaptogens act to maintain homeostasis in the body when physical or psychological stressors are present – they work to keep things in normal ranges. Gynostemma is a powerful antioxidant which helps protect us from free radical damage.
Eleuthero/Siberian Ginseng – This herb can increase your mental and physical endurance hence it's popular with athletes. It's an adaptogen and therefore can help you handle stress.
Goji Berries – This superfood is rich in antioxidants. Goji has a great deal of polysaccharides that ramp up your immune system.
Luo Han Guo – This sweet fruit builds up your immune system.
Schizandra – This berry is loaded with antioxidants. It has been shown to help improve vision and hearing.
Astragalus – This herb builds up your immune system, improves detoxification through your skin, improves sperm motility and can help treat chronic or recurring colds.
Dragon Herbs claims one bag of tea can be used 3 times to produce 3 mugs of tea. I've tried this and find the second tea tastes like water – mind you I wring out the bag in the first mug for extra zing. So try this out yourself and see if you can stretch each bag to two or three uses.
This tea can be enjoyed hot as is, warm as a base for elixirs, and chilled. You can drink the chilled beverage on its own or it can be used as a base in smoothies to ramp up the drink's nutrition.
Give Spring Dragon Longevity Tea a try and let me know what you think of it in the comments below.
To your health!
Jesse