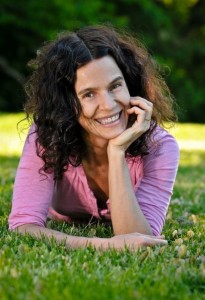 Natasha Kyssa is a published author and health educator. She lives in Ottawa, Ontario where she owns the gluten free and vegan restaurant "SimplyRaw Express."
I'm excited to share a recent phone interview I did with Natasha. We had a lot of fun chatting together and she provided a ton of great health information.
Here's what we talked about…
Tell us a bit about yourself.
Raised by traditional East European parents, I ate a very natural, wholesome diet growing up. Although we did eat meat in small amounts, I never felt right about eating animals, and it was always a struggle at the dinner table. Meals at home were always made from scratch including bread, sauerkraut and cultured yogurt.
Upon leaving home, I adopted a plant-based diet. In my late 20s I stumbled into modelling and like many people in the industry, fell into dieting and counting calories due to the pressures of staying thin. Before I knew it I was swinging between anorexia and bulimia — which I struggled with for 7 years. I also dealt with depression my whole life — which the doctors only treated with medication.
At my lowest, most desperate point, I decided to clean up my life so I quit modelling and transitioned to a raw diet. The more raw foods I incorporated, the better I felt. My moods stabilized, I felt energized, nourished, light, and happier than ever before.
Tell us a bit more about your transition into a raw foods lifestyle.
I initially transitioned to eating healthier to benefit my mental and emotional health. In the beginning I didn't even realize I was going raw but I began gravitating more and more towards these foods. The simpler I ate, the better I felt — on every level: emotional, physical, mental, and spiritual.
When I went raw, it was pre-web days so it was pretty much me and my books. Books by Ann Wigmore, Viktorus Kulvinskas, Norman Walker, Paavo Airola, and Dr. Richard Anderson were great influences.
Compare your first book "The SimplyRaw Living Foods Detox Manual" with your second book "The SimplyRaw Kitchen" which is coming out later this year.
I think a lot of people that know me may be surprised by my second book due to the more manageable approach I suggest. My first book completely delved into the living foods lifestyle which is beyond raw and focused on easy to digest nourishment. What I've found over the years is that although many people may want to be living this lifestyle, it isn't sustainable for them. I'm taking a more gentle, realistic approach with the lifestyle so this information can reach more people.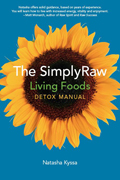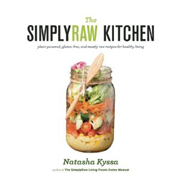 How did you get into writing?
With my first book I didn't even realize I was writing a book. It started out as four pages of information that I used for my SimplyRaw detox group that I ran out of my home. Two years later after accumulating more information I sent the book to two publishers and both accepted. Putting together the information for the first book was a very gentle, loving process and I really enjoyed it — it was effortless and to be honest, I had no idea that I was writing a book.
Writing my second book "The SimplyRaw Kitchen" was much more stressful as I had a three month timeline to write it, and this was six months after opening my new restaurant SimplyRaw Express in Ottawa. In the end, the new book turned out great and I'm very excited about it.
I don't really see myself as a writer but more of a poet — I used to love writing poetry and hopefully one day will have more time to delve further into it.
Can you share a couple of habits you would recommend to people transitioning into a healthier lifestyle?
Focusing on the morning is an easy way to transition into healthier living. It puts a positive spin on the rest of your day. This is a great time to add in a green smoothie which is easy for people to do. Make sure to chew your smoothie and avoid gulping it down. Instead of a green smoothie you can incorporate a fresh juice — or better yet, have both. Mornings are the best and easiest time to be raw.
Hummus or a pate with cut up veggies works well for lunch. These are easy foods to transport with you to work.
Have a salad with lots of sprouts at each meal. Eat the salad before your cooked meal otherwise you may not want to go back to the raw foods.
I'm also big on savory soups for dinner. Blended soups are an excellent way to increase the amount of greens and vegetables into one's diet. Both of my books have recipes for soups.
I know you have your new book coming out later this year. What other things do you have going on in 2013?
Recently life has been extremely busy with the restaurant, my cleansing programs, and writing the new book so hopefully, some rest and relaxation. I'm going to try and find balance on a daily basis. Although I am currently running, I plan to integrate some yoga and breathing space for myself.
I will be doing a book tour around September when The SimplyRaw Kitchen is released. I plan on doing a book tour out west, first to Vancouver and then making my way to Hawaii and Seattle as well.
When my first book came out I broke my leg within the same week. I had a tour booked across Canada and the US., but never ended up doing a full book tour — although I did make it to Toronto, New York and Vermont — albeit very small. So I'll be bringing both books for the upcoming tour.
We plan to expand our SimplyRaw Express hydraulically pressed juice line in Ottawa. I will also be launching more nutritional programs including a healthy weight loss program.
For more information on Natasha check out her website and TEDxTalk.
Be sure to pick up a copy of her book "The SimplyRaw Living Foods Detox Manual" – I thoroughly enjoyed the read. Keep an eye out for her new book "The SimplyRaw Kitchen" toward the end of this summer.