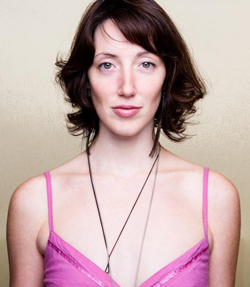 I'm so thrilled to share an interview I did with my colleague and friend Gabrielle Brick!
Gabrielle is a Certified Nutrition Specialist, NLP Practitioner and Life Coach. She is a true inspiration!!
Enjoy the interview…
Tell us a bit about yourself.
I am always curious as to what to say when I am asked this question… I am a native East Coast gal… a mother to two incredible Light Beings (twin boys!), and a woman dedicated to the art of healthy living! I Am a person who believes that our life is our own, that our choices and the voices of our inner landscape create the outside reflection. I Am a being who believes that I Am directly connected to the Oneness and that life itself is Sacred, therefore I Am Sacred. I Am a person who believes that Self Love is the very Key to the essence of existence. To love ourselves in the most epic, unconditional, fantastical way, we become our own perfect partner and discover that everything we desire is right here… within us. As an Alchemist, I believe that it is this Key, Self Love, as the essential ingredient in the recipe to The Alchemy of Self ™ and I am dedicated in helping people realize their own Alchemy of Self.
What food is currently a staple in your diet that you never go more than a few days without?
The One food that I ALWAYS have on hand is Unadulterated, Heirloom, Organic, Cacao. This powerful whole food holds alchemical secrets and has the power to shift a persons entire being. As such a powerful food, it must be revered as with anything, too much has its consequences. In its perfect amount and filled with vitamins, minerals, and one of the highest ORAC scores, it will open your eyes to a whole new world!
Can you share an interesting fact about yourself that most people would find surprising?
Hmmm…. another fascinating question… what is surprising?? What surprised me once, makes sense now… what once made sense is utterly surprising. What may surprise some is my colorful past and how I overcame alcohol and drug addiction by changing my diet almost two decades ago. To me that is just a tiny aspect in an epic journey…
Why is fueling your body and mind with healthy foods so important to you?
Our body is our temple. We can ONLY have a clear, sharp, mind when we have a clean, clear, and powerhouse body. It is from this place that One can then begin to realize and actualize their Spirit.
Can you share a simple strategy the readers can incorporate into their healthy living routine?
The BEST, fastest, most convenient, safest, and SUSTAINABLE way to begin to transform your body is to simply ADD or incorporate SUPERFOODS into one meal per day. I recommend adding superfoods to your morning routine. If you always have a heavy breakfast, switch it up. Make a smoothie and add superfoods. If you are someone who other than eats breakfast, switch it up. Eat breakfast; have something easy and power-fuel like a smoothie and add superfoods. You will be amazed at how this one, simple, action can completely shift your perspective and well-being.
What is on the horizon for Gabrielle Brick in 2013?
On the horizon in 2013 is more engaging. Simply put. I want to reach even more people. I want to know what is happening for you, the reader, and how we can help shift your reality into one that means the most to you. What do you desire the most? Together we can make the shift! As far as my own personal life and development, I have relaunched my brand of superfood energy bars ~ AVATAR, chocolate fudge bars ~ The ONE , and superfood mixes ~ SUN & MOON Organics, which will be on the shelves of Whole Foods Market in April! Yay! I have also created new coaching programs based on bio-individuality, helping people create sustainable shifts in their health and in their lives in general. I am blessed Jesse, I do what I am most passionate about – being a stay at home mama to my two most favorite men in the universe and I get to help people truly HEAL, creating the life they have always dreamed! It's an honor and a blessings… so just more of that! Yes please and thank you!
There is so much more I would have liked to have asked Gabrielle. We will most likely do a second interview in the future – keep an eye out for it!
Make sure and check out Gabrielle's website and blog where she shares a wealth of top notch health information!
Thanks for your time and inspiring words Gabs! It's been an honour to collaborate with you again on this interview!