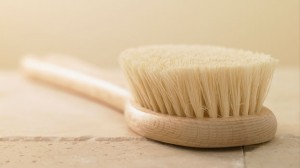 Our skin has a major role in detoxifying the body. It is the body's largest organ and can excrete up to 2 pounds of toxins daily. The skin can become clogged with dead skin cells and cosmetics. If this happens toxins are unable to leave the body through sweating. Dry skin brushing is a cheap and effective technique that removes the dead skin cells allowing toxins to leave the body through the skin during sweating.
Other health benefits of dry skin brushing:
Removes dead skin cells allowing for the growth of new ones.
Allows for better lymph drainage in the skin.
The movement of the brush across the skin will improve circulation to that area.
Creates smoother skin along with a healthy glow.
The appearance of cellulite is reduced due to the increased blow flow to the skin.
After the dead skin is sloughed off the skin will become firmer.
The act of dry skin brushing is invigorating and leaves you feeling more awake and alert. A great alternative to coffee in the morning.
Takes some stress off of the liver and kidneys, other detoxification organs. These organs must additionally deal with any toxins that don't leave through the skin.
Dry skin brushing technique:
The best way to fit dry skin brushing into your daily routine is to do it in the morning before your shower. You want to do this procedure while your skin is dry. To avoid damaging the skin, use any soft, natural fiber brush. A long handled brush is also a good idea to allow you to get to the hard to reach places like your back. Dry skin brushing takes about 5 minutes in total so it won't tack a whole lot of extra time onto your morning routine. You want to start with your hands or feet and brush on your bare skin in small circles. Continue brushing all along your body toward the heart. Go over your whole body including your head. If you have any areas of broken skin or rashes make sure to avoid them.
Dry skin brushing is an easy and effective technique to allow the body to detoxify naturally. Apply this simple dry skin brushing technique to experience the health benefits stated above.
Share in the comments your experiences with dry skin brushing.
To your health!
Jesse